Do you treat children or special needs patients?
Children and special needs patients are always welcome here. Our staff team members are especially skilled and enjoy working with youngsters. We have an outstanding selection of fun things in our toy box too.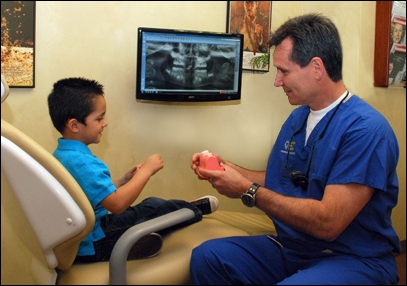 All our emergency equipment for adults is duplicated for children too; so you can be confident that our little patients are treated as safely as our full-sized ones.
Children and many special needs patients usually require sedation to ensure cooperation, even if the procedure is simple. This not only allows us to carry out treatment under the best circumstance (a non-moving patient) but also helps youngsters have no recollection of uncomfortable visits. Studies show that youngsters who have had a traumatic and painful dental visit generally avoid the dentist as adults and suffer more severe dental disease throughout life.
Does Oral Surgery Hurt?
It doesn't have to! We can keep you completely comfortable throughout your treatment. Since most every procedure can be performed while you are sound asleep, the actual surgical or implant procedures are a breeze. We always prescribe medications to keep you comfortable during your recuperation after treatment.
Post-treatment discomfort varies from one procedure to another and from one person to another. Routine procedures like tooth extractions or dental implants usually require just a day of down time and only mild discomfort. More extensive bone grafting or wisdom teeth removal may need several days of recuperation and stronger pain medication. We will carefully review your planned treatment at consultation and make sure you have a smooth recuperation.
Will I Have To Go Without Teeth?
No! You will never have to go out with no teeth, not even for a short period of time. You can wear temporary or provisional teeth during all healing intervals after tooth extractions or dental implant treatments. Many dental implant situations allow a temporary crown or implant bridge to be placed immediately after implantation.
Click Here to learn more about new teeth in one day dental implants.
What Are The Potential Problems?
It depends on the procedure. At your consultation, we will inform you of all your treatment options and address any of your questions or concerns. There is usually one option that is the best, but there may be several alternatives. The pros and cons of each treatment choice can be discussed so you can make an informed decision that makes sense for your condition and your budget.
Typical oral surgery can occasionally cause minor complications such as infection, sinus floor injury, nerve injury (resulting in prolonged numbness), excessive bleeding or prolonged recuperation. Serious complications are very rare, and the potential risk correlates to your general health.
Do you practice alternative/holistic treatment?
Our office is an excellent choice for surgical care for those interested in an alternative or holistic approach. We offer many holistic forms of treatment. We utilize ozonated water for all our procedures. We offer non-metal ceramic zirconium dental implants and blood plasma derived injections and products such as platelet-rich plasma (PRP) and stem cell concentrates and growth factor concentrates.
Doctor Stout is an open-minded scientist and a forward thinking clinician. He is a firm believer in the effectiveness of cannabis and other alternative means for pain management. When you come for consultation, we can consider the unique needs of your situation and arrive at a suitable plan.
How Much Will My Surgery Cost?
Every person's case is unique, and treatment needs and costs are different for every patient. After a thorough examination we will explain your treatment options and can give you an exact estimate of your expected treatment costs. For treatment that involves several stages, the total cost does not need to be paid up front. If insurance is involved, we can reach out to your carrier, and we will help you maximize your insurance benefits.
We have lots of options for payment for your treatment. We accept cash, debit cards, Visa, MasterCard, or Discover. We can also help arrange financing options through our financing partner. CareCredit offers a menu of no-interest and longer term repayment options with no up-front costs and no pre-payment penalties. As America's most widely accepted patient payment program, CareCredit can also be used at other participating dental and medical offices.

Will insurance cover my oral surgery treatments?
Dental insurances usually have some benefits for oral surgery including an initial consultation, x-rays, extraction of teeth, and often for intravenous sedation anesthesia too. Certain dental plans will pay benefits for implant surgical procedures too, but not nearly as often. Medical insurance seldom covers dental treatments, but will sometimes cover exams, CT scans, or treatment to replace teeth that were lost due to accidents or tumors, and may have benefits for trauma, lesions, or jaw joint treatments. We want to help you take advantage of every penny your insurance will offer. Please bring all your insurance information, medical and dental with you to the consultation so we can perform a complimentary evaluation of your insurance benefits.
Dental insurance will generally cover the cost of your consultation. If you do not have insurance, your consultation is complimentary.
Our office accepts most major dental insurances, even many types with a "closed panel." If our office is not a preferred provider in your insurance network, we can probably help you obtain about the same dollar amount of insurance benefit as if we were in network. Although there may be a higher out of pocket expense outside the closed panel, it is worth it to get treatment from an expert like Dr. Stout instead of the part-time or lesser skilled dentist who is on the panel.
Here are the dental insurance carriers who feature our office as a preferred, in-network provider:
Delta Dental
Aetna
Guardian
Assurant
Anthem Blue Cross
Cigna
GEHA
MetLife
Lincoln
Principal
United Concordia
United Healthcare
Blue Shield